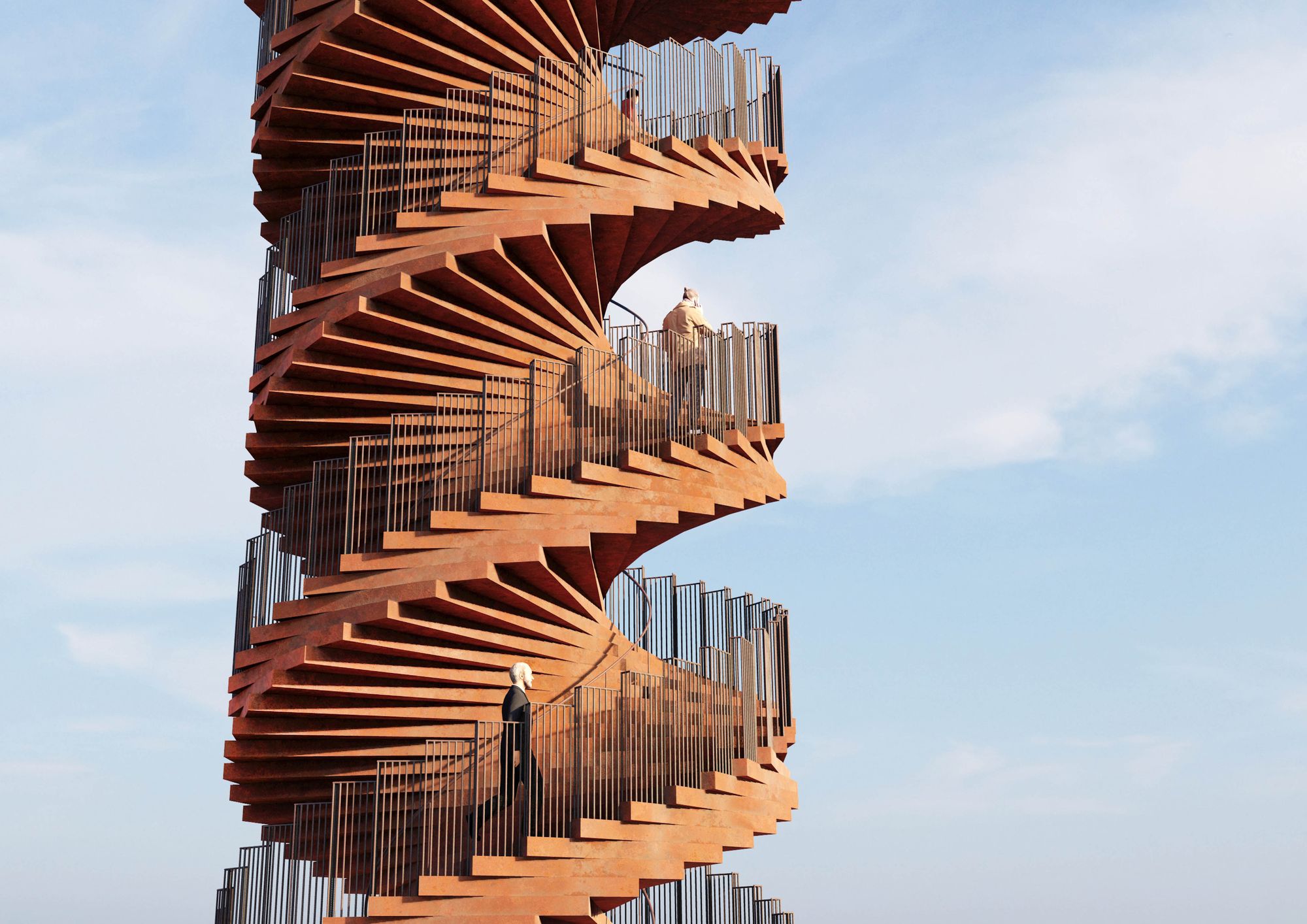 Gyrating up and down the helix in two separate staircases interwoven into one beaming tower. Presenting an Escherian imagination by Bjarke Ingels and his team for the Marsk Tårnet, or Marsk Watchtower, as a spiralling observatory escalated along Denmark's heathlands at Hjemsted Oldtidspark. The tower soars 25 meters (over 80 feet) as a corten steel sculptural work of architecture standing as a local joint ambition to enshrine a place where visitors can experience and indulge in the natural beauty stretched across the Marsk camp.
The watchtower elaborates as an art object painted into the defining landscape, accentuating a vision, like a scope set to capture the vivacious vistas. The stepping form spun its inspiration from a strand of double helix human DNA, entwined and configured to divide and sculpt as a solitary towering unruffled composition to climb up and walk down. The ingenious craft of curvilinear circulation albeit separate enchants the visitors with enthralling views and serenading panoramas etched across the distant landscape. Alternatively a small elevates runs through the core as universal access.
The Bjarke Ingels Group showcased the Marsk Watchtower in corten steel, as for the material's simplicity and clinical expression that imbues a humble appeal to its natural surroundings. The ambitious development hopes to introduce an exciting place imprinted with an experiential architectural icon that will attract tourists from all over the world to Hjemsted, Denmark. The marvelling stairs circling the tower with prolific views defined at every step and every angle endows a salubrious expansion to every mind that takes the step.
Let's take the stairs!
About BIG – Bjarke Ingels Group
BIG is a Copenhagen, New York, London and Barcelona based group of architects, designers, urbanists, landscape professionals, interior and product designers, researchers and inventors. The office is currently involved in a large number of projects throughout Europe, North America, Asia and the Middle East. BIG's architecture emerges out of a careful analysis of how contemporary life constantly evolves and changes. Not least due to the influence from multicultural exchange, global economical flows and communication technologies, that all together require new ways of architectural and urban organization.
We believe that in order to deal with today's challenges, architecture can profitably move into a field that has been largely unexplored. A pragmatic utopian architecture that steers clear of the petrifying pragmatism of boring boxes and the naïve utopian ideas of digital formalism. Like a form of programmatic alchemy, we create architecture by mixing conventional ingredients such as living, leisure, working, parking and shopping. By hitting the fertile overlap between pragmatic and utopia, we architects once again find the freedom to change the surface of our planet, to better fit contemporary life forms.
Project Details:
Project Title: Marsk Watchtower
Architecture: Bjarke Ingels Group / BIG
Location: Hjemsted, Denmark
Client: Marsk Camp
Construction: Hb Trapper
Structural Engineering: Afry
Visualizations: Courtesy Of Bjarke Ingels Group / BIG