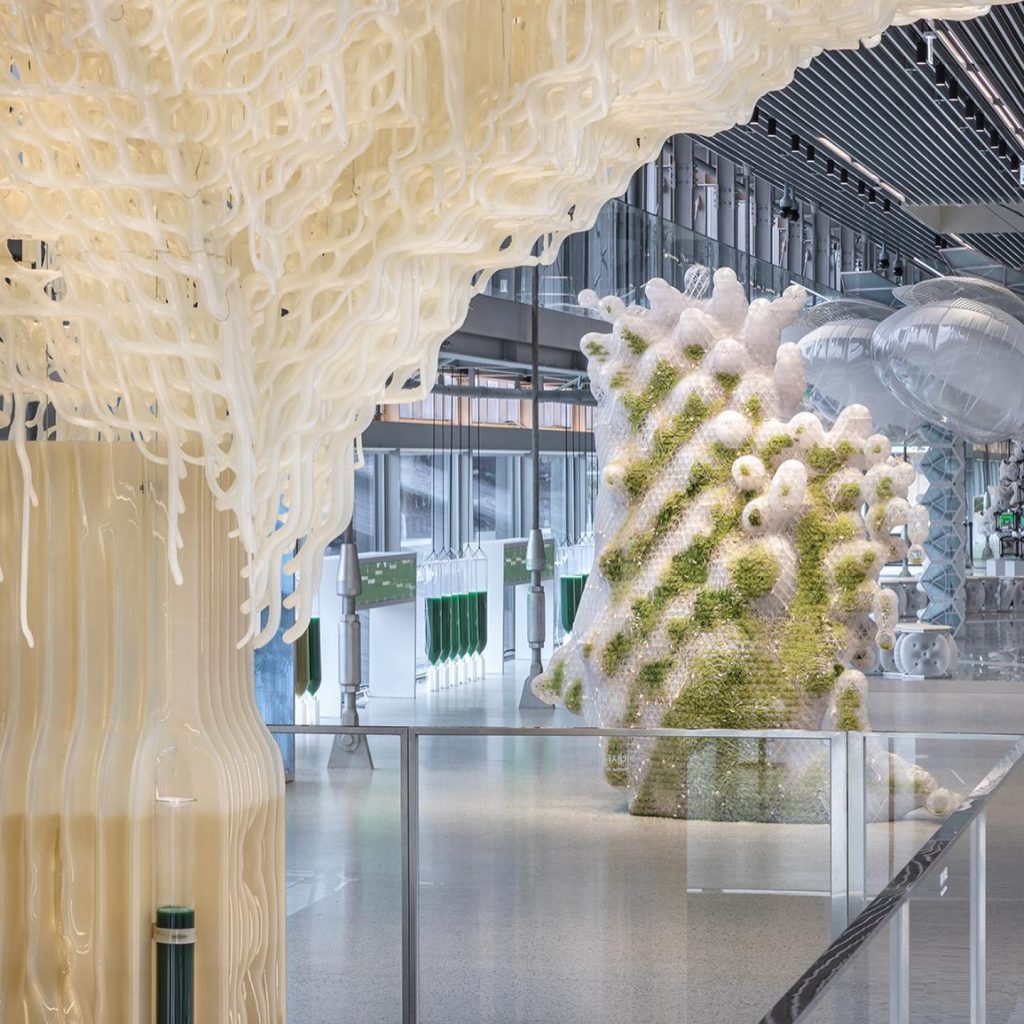 For the first time, London-based architecture and design innovation firm ecoLogicStudio is part of an exhibition called "Habitat One" in South Korea. Within the scope of the exhibition, three photosynthetic architectural works will be open to visiting for the first time. Hyundai Motorstudio Busan presents exhibits by two artist groups, BARE, and ecoLogicStudio. The exhibition is open at Busan Hyundai Motorstudio until January 8, 2023.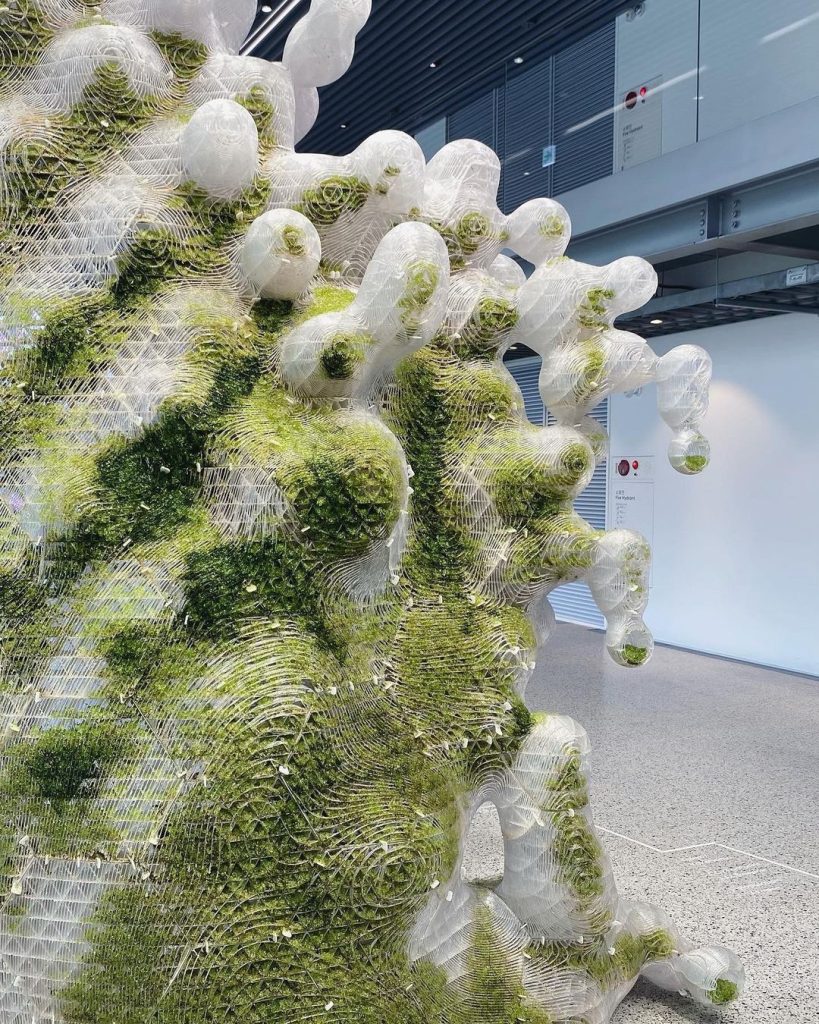 Claudia Pasquero and Marco Poletto, founders of ecoLogicStudio, designed "Tree One", a living 10-meter sculpture commissioned by Hyundai Motor. "Habitat One" offers a new concept of "shelter", a sustainable housing solution for the first generation to live in a First-Generation carbon-neutral society.
According to Claudia Pasquero "In the Anthropocene age, non-human intelligence and artificial life are emerging as the critical forces shaping our future. As a species, we are therefore on the verge of a cognitive precipice: learn to think differently or go extinct."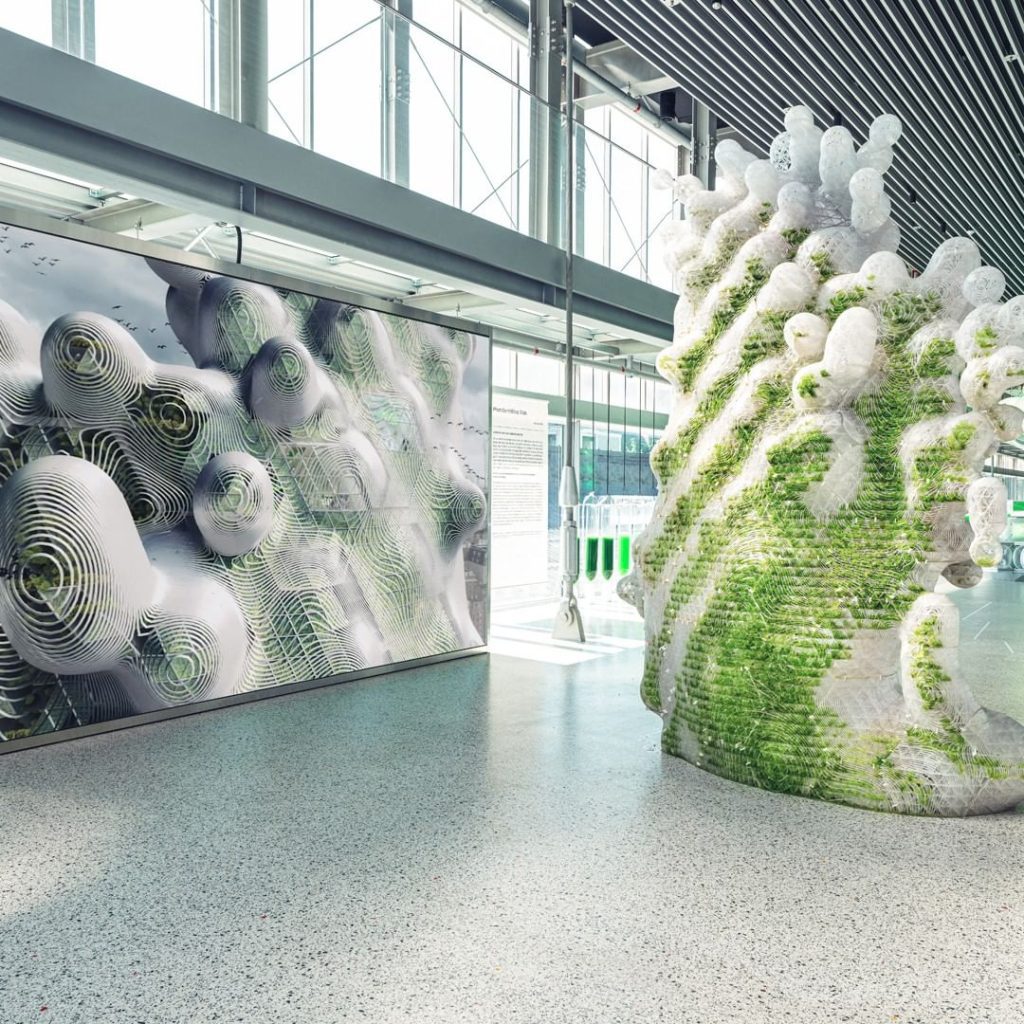 At the center of the exhibition space is Tree One, a 10-meter-tall carbon-storing sculpture designed by artificial intelligence and grown bio-digitally, spanning two floors.
The main structure of the Tree One project, which is a combination of artificial intelligence and biology, is a 3D Voxel Grid developed by an artificial intelligence algorithm that recognizes arboreal systems and negotiates the logic of the architectural column, which is an original prototype of the shelter.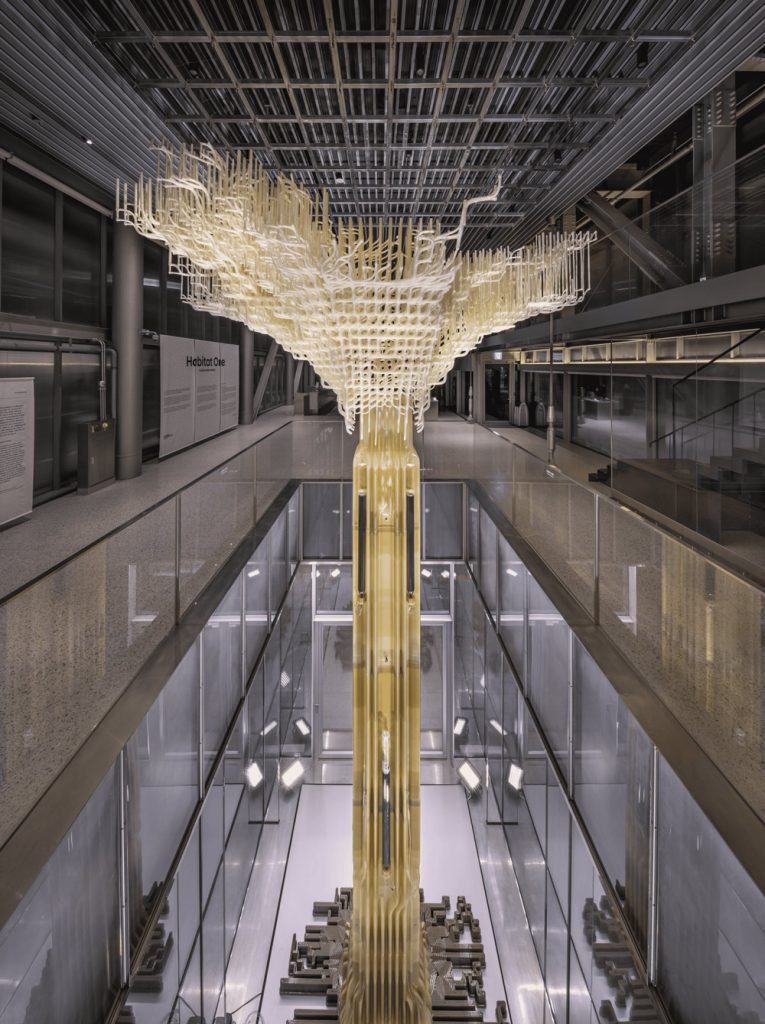 The Tree One project's canopy, produced by high-resolution 3D printing, acts as a carbon pool, shading over 25 square meters by trapping the captured CO2 molecules in a decorative structure.
The carbon-neutral and zero-waste structure of the project was created by a global information system capable of running the remote production process with 4 industrial robots and 20 large-scale 3D printers.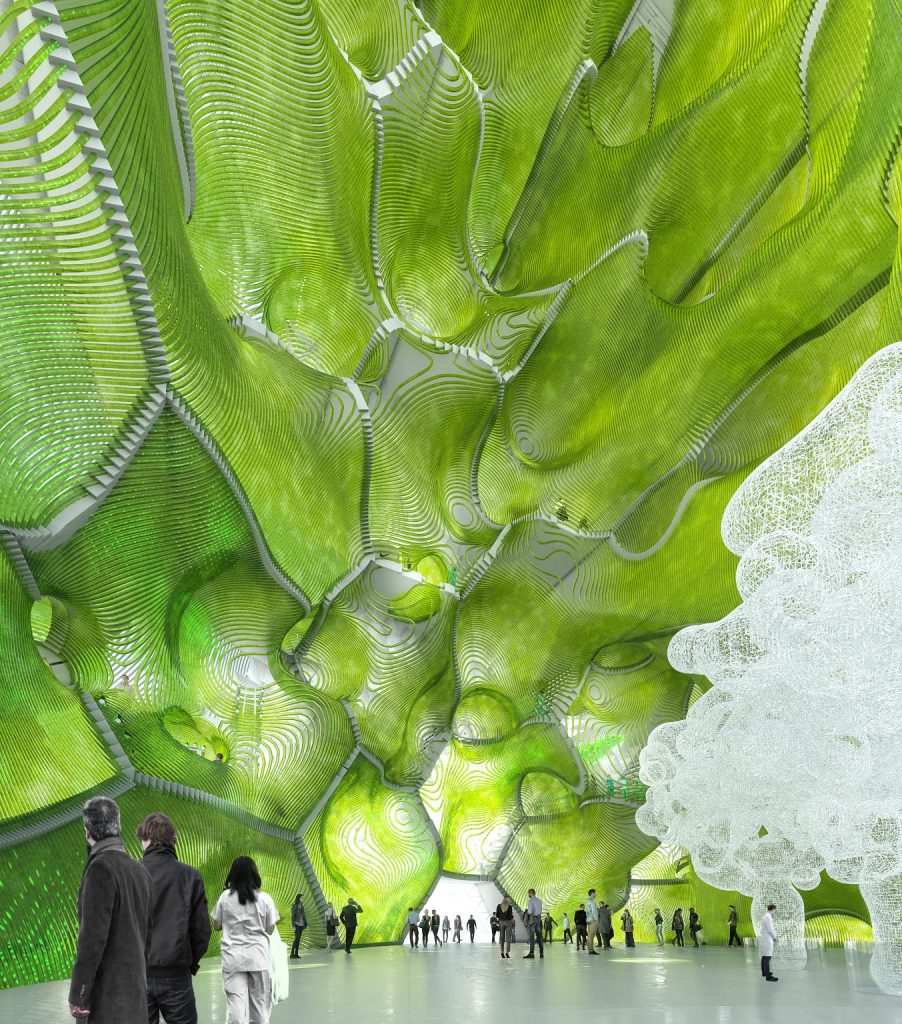 PhotoSynthEtica Walk, installed along Hyundai Motorstudio Busan's glass facade, aims to demonstrate how architecture can be adapted into a photosynthetic system to support future self-sufficient lifestyles.
PhotoSynthEtica Walk is an algae garden consisting of 42 customized glass photobioreactors. It invites individuals, families, and communities to grow an urban source of vegetable protein.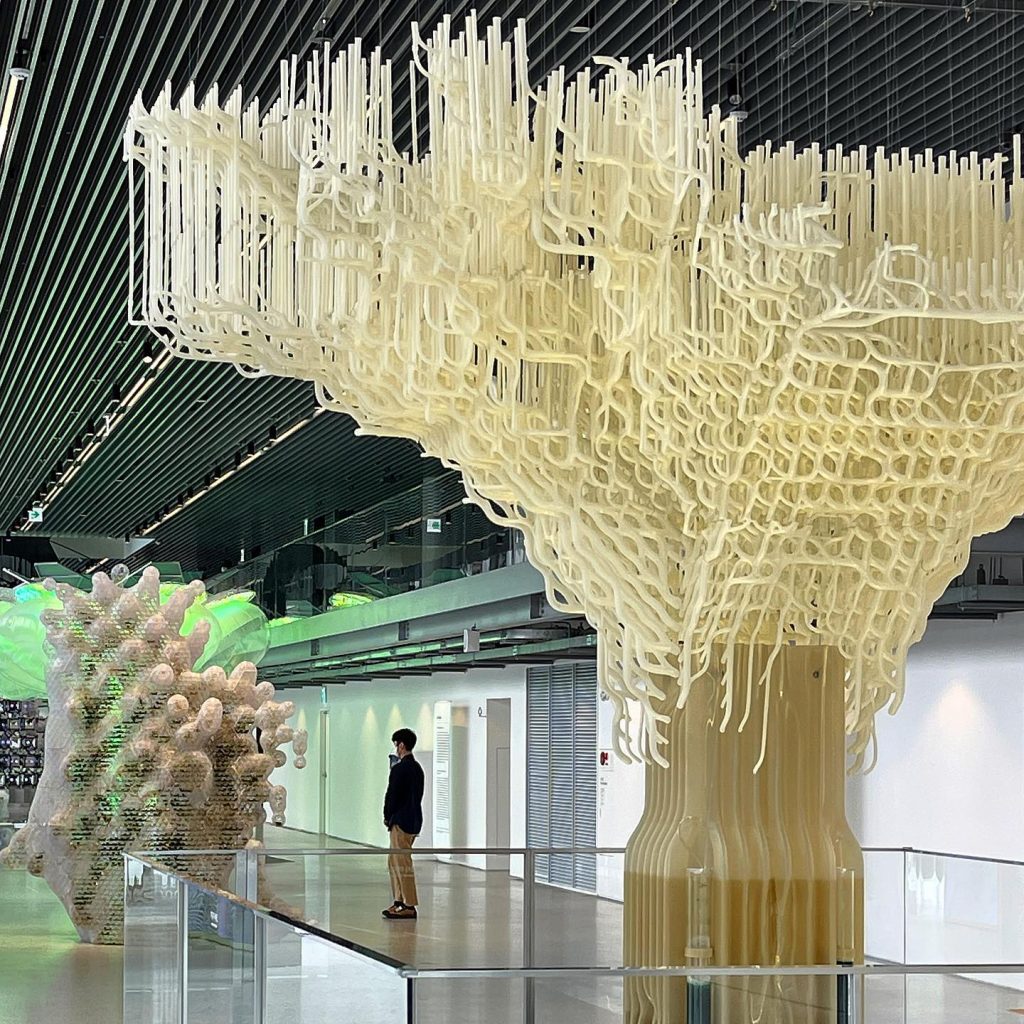 The final element of these photosynthetic architectures created by ecoLogicStudio in Busan is the "H.O.R.T.U.S. XL Astaxanthin.g"; It is a large-scale, high-resolution 3D-printed biotech sculpture open to both human and non-human life.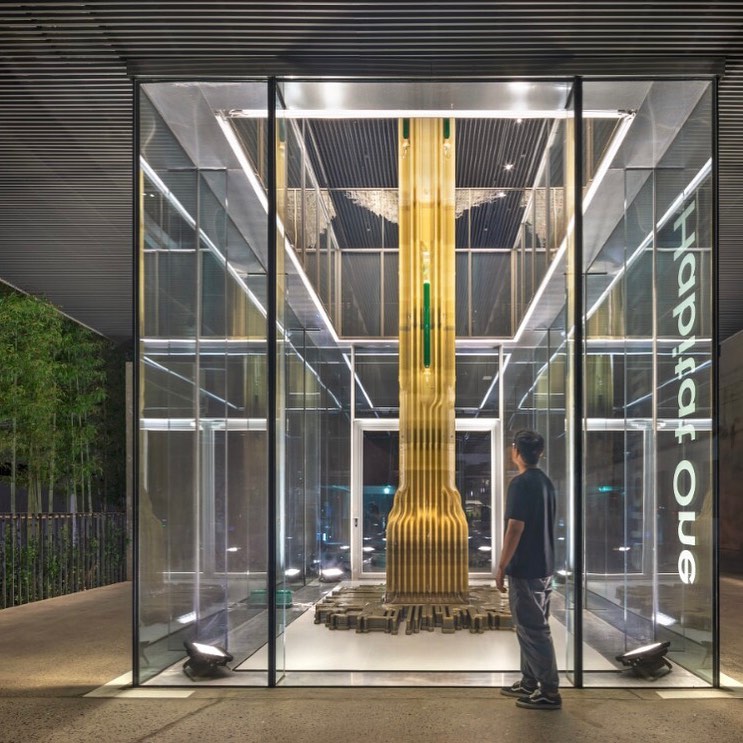 The exhibition is the architectural embodiment of PhotoSynthetica Tower, a high-density metropolitan cluster that can support urban re-metabolization. The structure literally extracts carbon and other minerals from the air to turn pollution into raw material for the series of bio-fabrication and horticultural processes taking place within it.