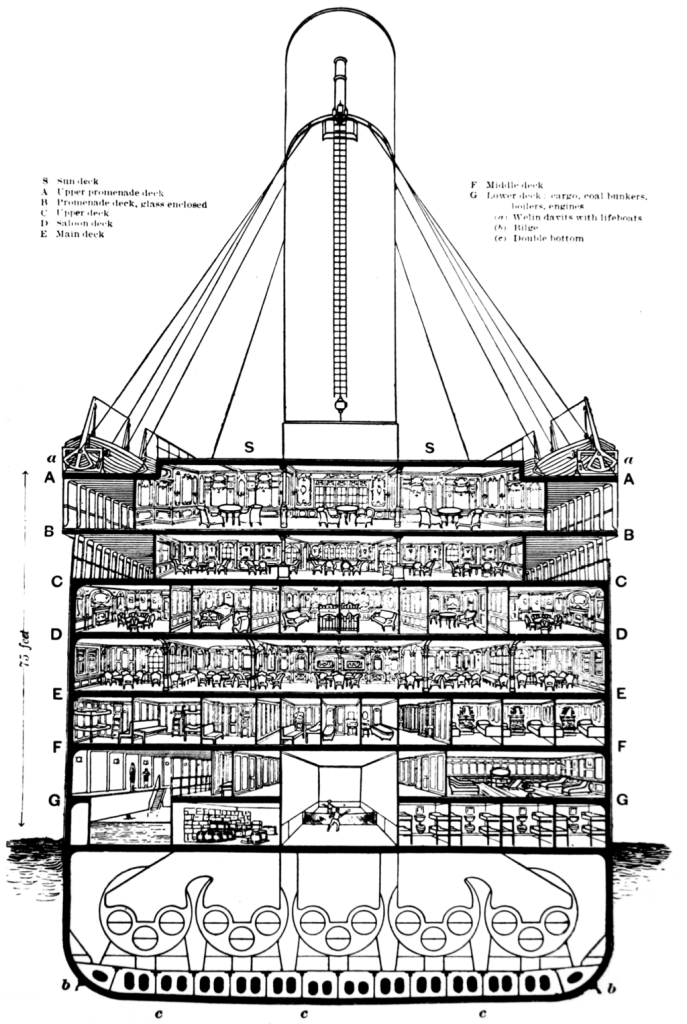 The Titanic was designed and constructed by White Star Shipping to be the flagship vessel in their fleet of commercial liners, specifically catering to the travel needs between Europe and the United States.
The construction of the Titanic took place in Belfast, Ireland, due to the strong working relationship between Belfast shipbuilders Harland and Wolff and the White Star Line. In 1895, William Pirrie, who later became Viscount Pirrie of Belfast, served as the shipyard chairman. He and his colleague came up with the concept of the Olympic class liners to challenge their competitors, Cunard.
The Titanic was a ship that measured 269 meters in length, making it over 100 feet longer and fifty percent heavier than its closest competitor. This engineering marvel was the largest moving object ever constructed by humankind, and its creation sparked a revolution in shipbuilding that spanned two centuries.
The Titanic was a unique ship that combined different design styles, including Empire, Renaissance, and Louis XV. Its architecture was meant to impress and delight passengers, creating the feeling of being in a lavish floating hotel.
Let's look at the travel classes designs of the Titanic:
First Class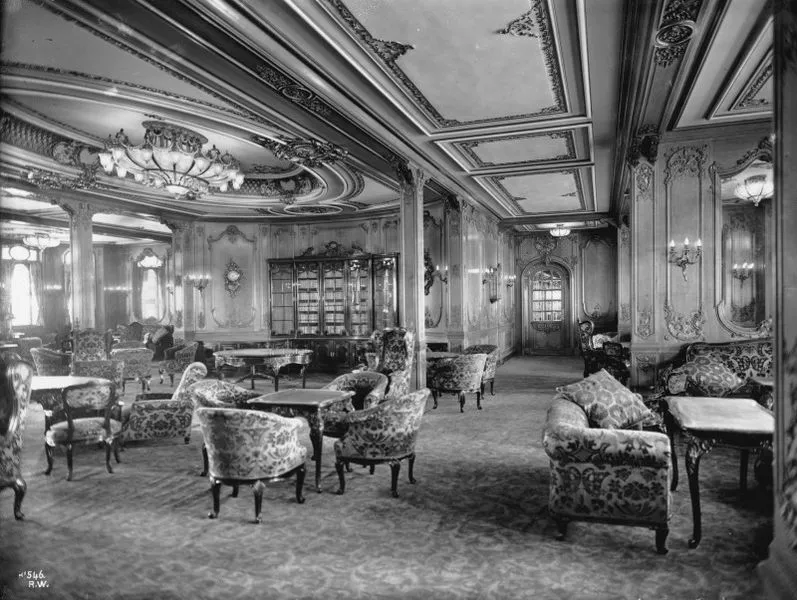 The design of the Titanic focused on providing a comfortable and understated elegance similar to that of a luxurious British country manor or hotel. Its massive size allowed for exceptionally spacious rooms, each equipped with cutting-edge technology to ensure maximum comfort, hygiene, and convenience.
The majority of premium amenities and lodging could be found on the upper decks of the Titanic's superstructure, where engine vibrations and noise were minimized.
During its time, the Titanic offered numerous amenities to its first-class passengers, such as Turkish baths, a swimming pool, a squash court, barber services, and even a darkroom for developing photos while on the voyage. One of the ship's distinctive features was its gym, which had designated hours for men, women, and children to exercise separately. The gym had state-of-the-art facilities, including stationary bikes, weight machines, a rowing machine, and even electric horses and camels.
First-class passengers had access to various amenities, such as a smoking room for men, a reading and writing room mainly occupied by women, a lounge designed after the Palace of Versailles, and several restaurants and cafés. The staterooms in first class were decorated in different styles ranging from Georgian to Jacobean to Italian Renaissance. While some rooms had private bathrooms, shared bathrooms were available for use.
The least expensive option for the first class was a standard cabin, which was priced at approximately £30 (equivalent to £3,200 in 2021).
The Grand Staircase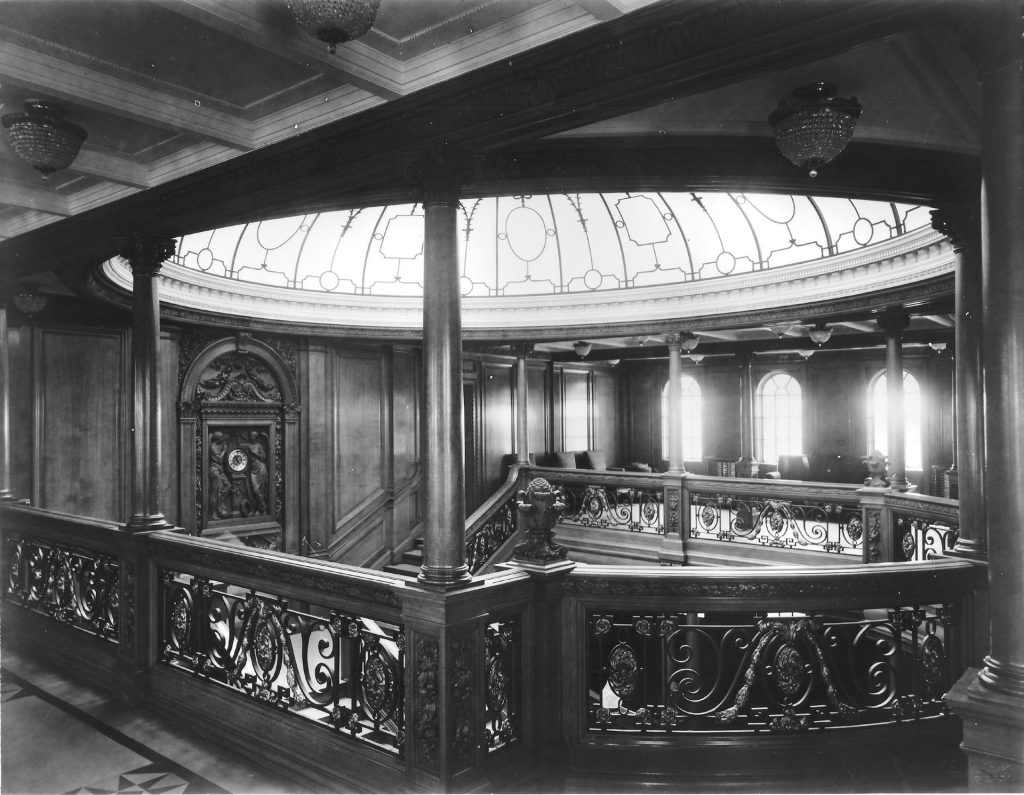 The most impressive feature of the first-class public rooms on the Titanic was the forward Grand Staircase. This staircase was located on the A-Deck and spanned two stories. The staircase boasted a beautifully wrought iron and glass dome that allowed natural light to filter into the space during the day. The dome was surrounded by an intricately designed plaster entablature and was protected by a cover that housed the lighting used to illuminate the dome in the evening.
This structure was built in the neoclassical William and Mary style using top-quality English oak. The wrought iron balustrades were designed with the elegance of Louis XIV in mind, providing first-class passengers with access to almost all available facilities. The entrance halls surrounding it were also adorned with polished oak paneling carved in the same neoclassical William & Mary style. The newel posts were intricately carved with high relief garlands, each boasting a unique design and crowned with exquisite pineapple finials.
Second Class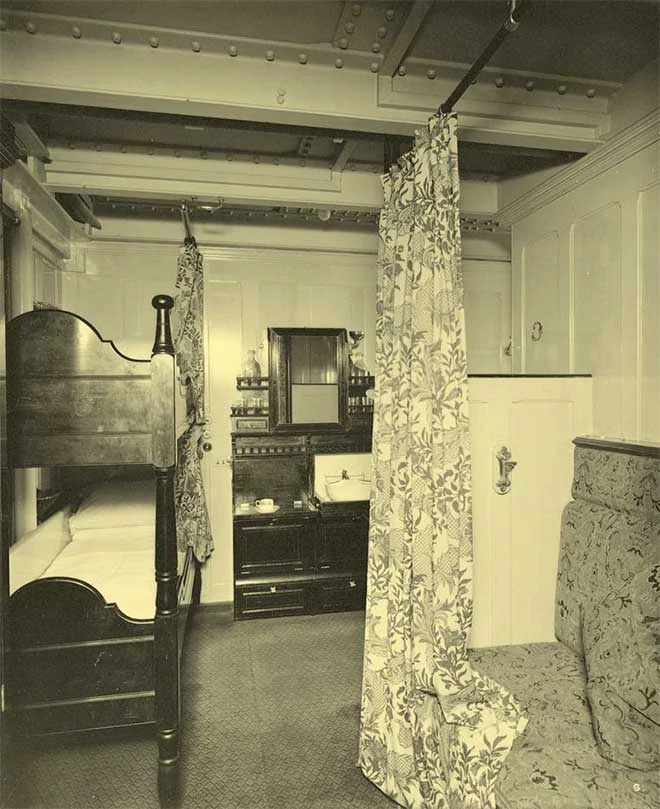 Passengers in the second class section of the Titanic were allocated seven decks for their stay. They had access to several public areas, including a library, smoking room, dining salon, and promenade decks. The library's Adam-style design added to the ship's character. The second-class cabins were comparable to the first-class staterooms but with bunk beds and were frequently shared by two individuals.
Passengers in second class were able to enjoy a generously-sized library, a designated smoking area, an outdoor promenade, and a dining room. Furthermore, communal restrooms were made available for the convenience of second-class passengers.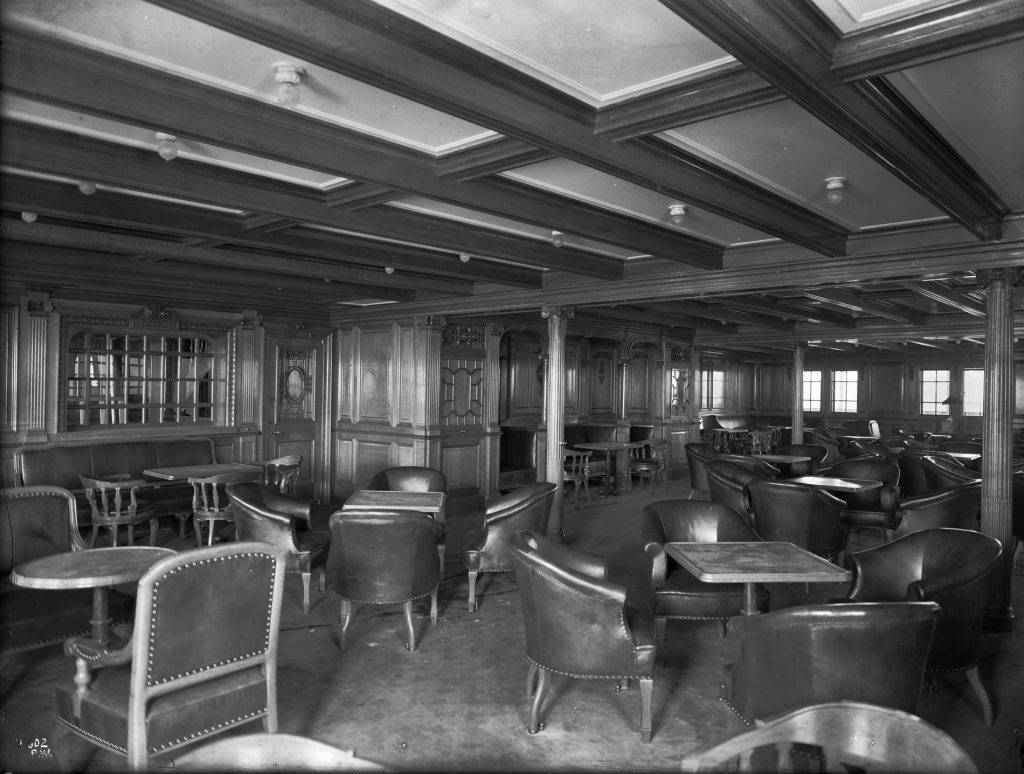 The Second Class library on the Titanic was situated on C Deck towards the back of the ship, providing a view of both the aft well deck and poop deck. The interior was adorned in the Adam style, featuring a combination of light sycamore and dark mahogany paneling with columned accents. The room boasted white-painted wooden columns with fluted designs that supported a coffered plaster ceiling.
The room for smoking, similar to its first-class equivalent, was exclusively for men. Positioned right above the Library, it boasted Louis XVI decor, oak paneling, and linoleum tiles.
Third Class
The public areas designated for third-class passengers were not as highly decorated as those for the first and second class. However, they were still pleasant and cozy, indicating that White Star Line recognized that many third-class passengers were embarking on a journey to America to start a new life.
Therefore, the company aimed to ensure that their transition was as comfortable as possible. Titanic was noticeably more comfortable than what was offered by many of its competitors, though third-class passengers were granted the smallest proportion of space on board and very few facilities. Third-class on-board sleeping quarters mainly consisted of bunk beds, and several passengers had to share restrooms. There were 84 cabins with two berths each, designated for third-class passengers, which could accommodate a total of 1,100 individuals. Shockingly, out of the 710 third-class travelers on board, there were only two bathtubs, one for men and one for women.